Admission to Boston Tea Party Ships and Museum
Duration:
60 minutes

operating:
Daily

VOUCHER: You can present either a paper or an electronic voucher for this activity.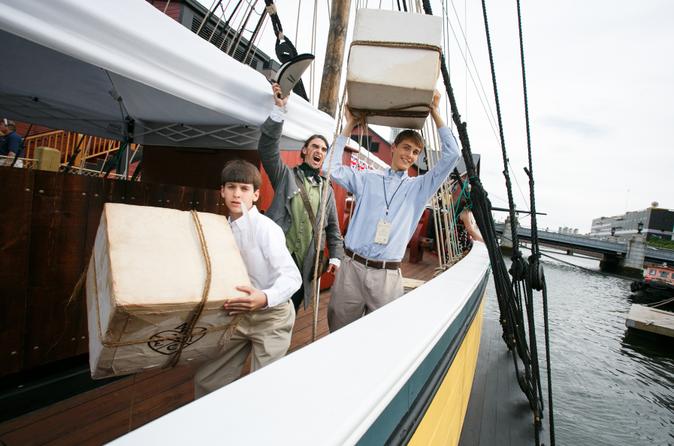 Admission to Boston Tea Party Ships and Museum
The Boston Tea Party Ships and Museum will give you a comprehensive look into the days leading up to December 16, 1773, as well as this fateful day's role in kick-starting the American Revolution. The museum combines historic and rare artifacts with cutting-edge technology to give you a real-life experience of what life was like in Boston during the 18th century. Spend your day wandering the museum and the exhibits at your leisure, or take advantage of the complimentary, one hour guided tours that leave every 30 minutes!Show More
Museum exhibits include: The Meeting House:See a reenactment of the evening of December 16, 1773, when patriots dumped the loads of British tea into the Boston Harbor.
The Tea Party Ships:Explore one of the tall ships: The Beaver, The Dartmouth and The Eleanor! Two of the three (The Beaver and The Eleanor) were docked in the harbor on the evening of the Boston Tea Party!
Griffin's Wharf: At Griffin's Wharf, take pictures with colonial cutouts and mingle with costumed patriots. The wharf played a crucial role in the Boston Tea Party protests and is a perfect place for photos of the tall ships and the Boston Harbor.
Holographic Tea Party Encounter: Enjoy a 3D experience that will make you feel as if you are on a Boston street watching colonists and British soldiers argue right before your eyes!
Robinson Half Chest: See one of the two remaining tea chests! This artifact, passed down from generation to generation, is one of two chests that survived the Boston Tea Party.
Minuteman Theatre: Watch the American Revolution unfold before you on the big screen!
Abigail's Tea Room: Quench your thirst at Abigail's Tea Room and enjoy a spot of tea (tasting not included). You'll also learn about the tea-brewing process.
CityTrip will plant one tree for each trip booking you make.
Cheсk Availability
select date
Only dates can be booked are shown.
Inclusions
Museum entrance fee
Guided tour
Exclusions
Hotel pickup and drop-off
Port pickup and drop-off
Gratuities (optional)
Food and drink
Additional Info
Confirmation will be received at time of booking
Optional guided tours depart every 30 minutes
All guests must check in with the ticket booth and exchange their voucher for a tour time. Tours are on a first come, first serve basis and cannot be reserved over the phone in advance.
Location
Departure Point: Boston Tea Party Ships and Museum
Departure Time: During normal hours of operation
Highlights
All entrance fees included
Family friendly
Flexibility to customize your itinerary to your own preferences
Voucher Requirements
You can present either a paper or an electronic voucher for this activity.
Cyndi D

Great tour! Very informative and fun!

Michael Z

A truly amazing experience - prepare to take part in a reenactment of the famous night in 1773 where the tea was thrown overboard! Interactive, insightful and a wonderful journey to help one understand the beginning of the American Revolution.

Christy M

Had a great experience on an extremely cold day! There were only 3 of us on a day the harbor was actually frozen, but we still got to throw the tea boxes overboard AND all the guides were enthusiastic and put on a GREAT show. It was full of well presented and informative exhibits and even a well produced movie. I even felt pretty patriotic by the end! Great family fun.